WordPress Poshtiban Plugin allows uploading media files to a partition of Poshtiban Cloud Storage. Poshtiban's file hosting is cheaper, faster and more secure than any other file hosting system and you won't need to pay high prices for your hosting with high capacity and bandwidth.
With this plugin you can store your files in the cloud storage instead of your website host and you won't need to logout from your WordPress admin panel in order to perform such task and you have access to features such as Adding multimedia files right from your WordPress panel.
This Plugin will give you full access to use Woocommerce sale facilities. If your business includes selling digital and downloadable content then our cloud storage and WordPress plugin can 100% guarantee your business.
With this plugin, you can have concurrent download on your cloud service and web host or only on your cloud service. You can create direct one time download links using Woocommerce from your WordPress plugin.
Furthermore, you can get database backup from your WordPress, all WordPress files, Skin branch, Upload branch and plugin branch as well. Backup file will be created on your cloud storage and will not fill any space on your hosting service.
Advantages of using Poshtiban's cloud storage plugin
You can define specific subdomains for your cloud storage partition in Poshtiban (Subdomain creation on Poshtiban's partition guide)
By creating an account in Poshtiban, you will get a free 5GB partition forever. You can buy different partitions from 3 to 500 GB size and even your free partition can transform into a premium partition as well.
This plugin is fully compatible with Woocommerce and let you easily put the file that you have put on your cloud storage service for sale through Woocommerce.
Download Poshtiban WordPress Plugin from WordPress plugin repository or get it from this direct link and activate it in WordPress plugins section.
You should register in Poshtiban.com in order to use this plugin. (Registration guide)
After you have registered your account then a 5GB partition will be available to you and if you need more space for files in media or Woocommerce sale then you can purchase a partition with higher capacity. You can increase your free partition size to a higher size as well.
In Poshtiban's profile section, activate default direct link and select a username. (Direct link creation for files guide)
If you want the download address and your file preview appear in your own subdomain and your original website then you can set a new CNAME record with cname.poshtiban.com format on your partition to set your own subdomain. Please note that plugin will work absolutely fine without subdomain but your file address will be https://yourusername.poshtiban.io/yourpattitionname/… (Sub domain set on your partition guide)
After that you can click on 3 dot sing beside the partition and select access key. You can see your access key to your partition inside opened window .You must go to WordPress admin menu and select Setting and enter your access key there and save. If your setting is correct then your direct link or subdomain will appear in the Domain section and your plugin will connect to your cloud storage service.
.
File upload using Poshtiban's plugin
In articles section, Woocommerce sheets and products, click on Add multimedia file. A new window will open and you can select Upload in Poshtiban from the side menu there.
In upload to poshtiban section, you can see options such as Upload a file, Upload a folder and Remote Upload (to add a direct link for a file). Upload your files and then put them in your content as a picture or video or as featured image or product gallery.
File upload for downloade and WooCommerce products
Please remember to do set these two configurations before you use Poshtiban's plugin in WordPress for WooCommerce:
1: in WordPress main menuà WooCommerce à configurations, inactive guest purchase from user account and privacy tab. We suggest you to use this setting: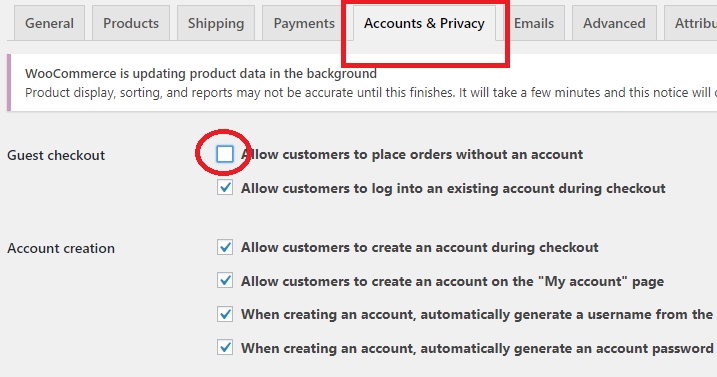 2: In the same section, go to products tab and in downloadable products, make sure that download method is not set on Forced download. The same thing applies if you set a Mirror link in WordPress plugin on concurrent.
After you took care of these two points, you can get back to WordPress plugin setting and continue the following steps:
Set the following in settings section and in woocommerce tab under Poshtiban's plugin.
Select Synchronize in Mirror type section. Remember that use Mirror link only if you want to upload your file on both your host and your cloud server.
In Mirror type section, select Only Poshtiban if you want your downloadable files get uploaded only on your Poshtiba partition and take no space on your hosting space.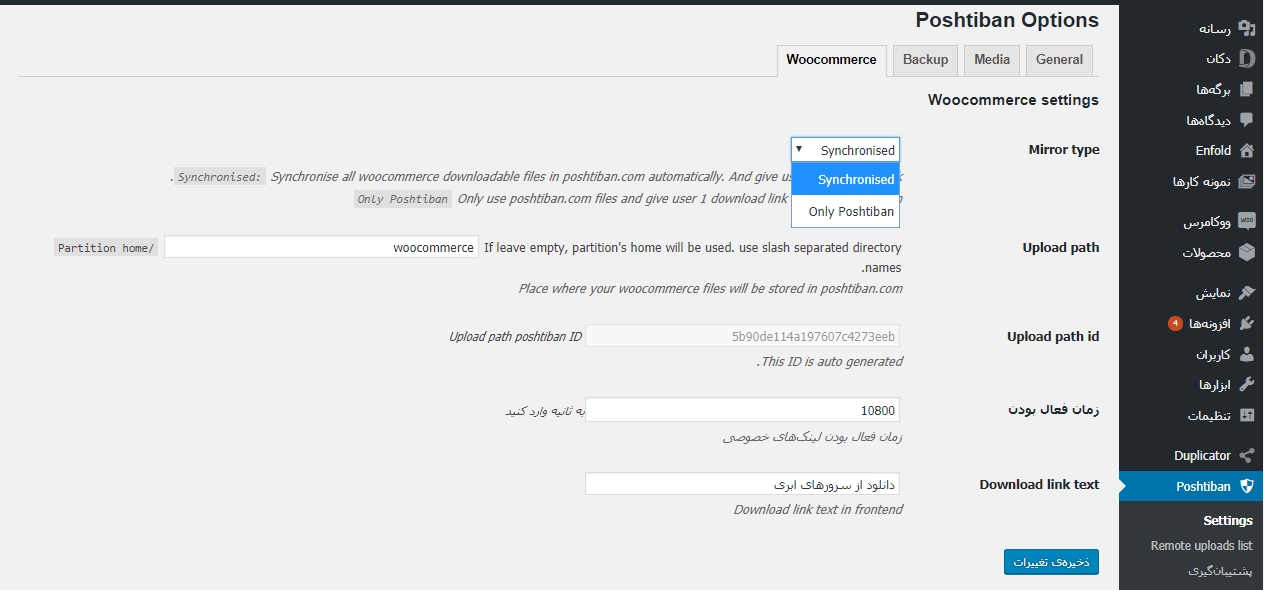 Remember that if you change Mirror type, previous state downloadable files may not appear for your customers so decide what you want to do and how you want to use this plugin to sell your downloadable products at the beginning.
You can add title or download key text in Download link text section from Poshtiban cloud services.
When you enter your download product, in product information section, you can see a message box and check box  when you select virtual download and downloadable. When you upload your product normally by choosing it from your website's media section, once you have saved it then a copy of it will create in your Poshtiban partition and download link will create on your hosting service for customers to place order.
In case that you have selected Only Poshtiban in Mirror type then you will only see upload and show poshtiban's partition files options when you want to enter a downloadable file.
Building WordPress website backup file using Poshtiban's plugin
Select backup from Poshtiban in WordPress main menu.
Click on create new from the page's top.
Select your backup method from available options and choose which part of your website you want to take backup from.
Click on create.
A backup file from your selected areas will create and add to your poshtiban partition.